On Pointe at 50″ Performance DVD ON SALE NOW !!!
with STAR LEGEND, Mr. AL JARREAU and other STAR ARTISTS such as FREDDIE RAVEL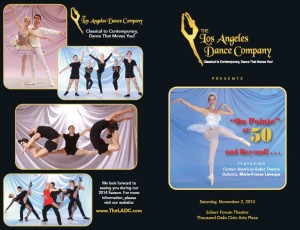 2 hours of enticing and inspiring dancing!

$35 or 2 for $60  + shipping and handling fee.





---
DANCE RELATED ITEMS
All photos can be purchased in different sizes and autographed by the artists (5×7, 8×10, 11×14 or poster size).

Call the office at 818-627-9083  or email us at Contact@theladc.com for  prices and more information

Autographed  used pointe shoes from your favorite ballerina in our company $35

Embellished  pointe shoes with rhinestones. Call 818-627-9083 for pricing.
Buy CD from our Guest Artist!
* To purchase our featured guest artist FREDDIE RAVEL' cds, please click on the image.
 
Buy Beauty Products from our Sponsors!
* Protandim – Scientifically-proven age-reversing daily supplements and anti-aging facial cream. Protandim is a supplement that combats oxidative stress through Nrf2 activation.  http://www.mylifevantage.com/feelbest
* To purchase anti-aging & skin care products, click on the image:

* Arbonne –  Anti-aging skin care line and health products. Shop at www.ARBONNE.com and enter referring Consultant ID # 17754969. For questions call 310-308-2471.